The Albany chapter's Young Members Group is geared toward young adults in their 20s and 30s who share a love for the outdoors and support ADK's mission.
You can participate in a variety of activities, including: 
Hiking
Backpacking
Cycling
Snowshoeing
Cross country skiing
Nature walks in local preserves
Flat water paddling
Trail work days
Kid-friendly outings
Social outings and activities
You can participate in outings for all fitness levels and interests and have the opportunity to learn and improve your skills along the way, no matter where you're starting from.
Whether it's an easy walk in the woods to enjoy the scenery of lakes and waterfalls and socialize, or challenging yourself in the high peaks and beyond, you can do it with ADK. If you are looking to hike all the fire tower mountains, become an Adirondack 46r, gain more experience on the trails, make new friends, or get into shape, ADK can help you get there!
We hold occasional social activities to help us keep in touch between recreational outings, which serve as a great way to meet other members of the chapter, share ideas for future outings, ask questions, learn about ADK, gear, etc.
Want to volunteer? Current opportunities include: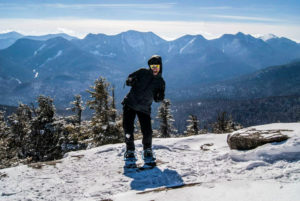 Outings Leader: Plan and lead outdoor recreational or social outings for young members & families. Outings can range from kid & family friendly to advanced, as we'd like to offer something for everyone. Contact Ralph Keating at ralfieboyk@yahoo.com for more information.
Young Members Chair: Contact Danielle at daniellesnews@gmail.com
Young Members Social Coordinator: Plan monthly social activities to keep us connected & having fun! Contact Danielle at daniellesnews@gmail.com
*Volunteers must be ADK members*
Benefits of Being an ADK Member:
Meet other young members who share a passion for the outdoors
Participate in fun and exciting outings in NY and throughout the northeast. The Albany chapter offers a variety of outings led by leaders of all ages, and members are encouraged to participate in any outings of interest, in any chapter, not just "Young Members Group" designated outings.
Discounts on ADK guide books & merchandise, education & skills workshops, lodging at the Adirondak Loj and Johns Brook Lodge, & parking at the Loj.
Gain volunteer experience by helping out with trail maintenance, membership drives, leading outings, and more, which always looks good on a resume!
You support trail maintenance, conservation, & advocacy efforts to protect NY's Forest Preserve for future generations.
Opportunities for nationwide & international travel through ADK's Adventure Travel Program.